---
My 9/11 Story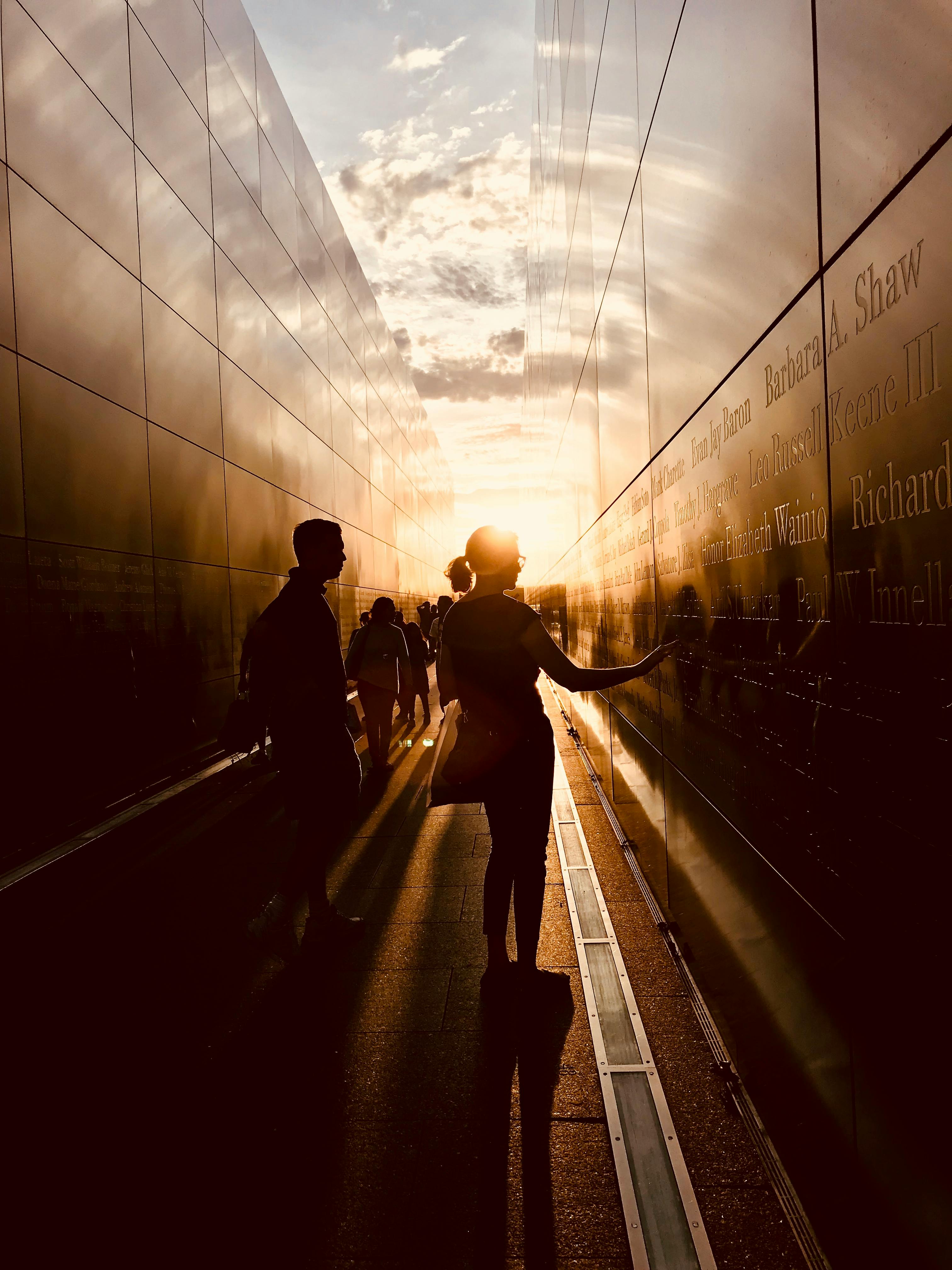 Well, for starters, I wasn't in NYC or Washington on the sad day of 11 Sep 2001. Instead, I was a ne'er-do-well living with his mom in the Macomb Chateau Trailer Park (now under a different name) in Macomb Township, MI. It was a day off for me from my job at Mazel's (now defunct and replaced by a Dollar Tree). I awoke at 8:20 am and turned on Detroit's Fox Affiliate, WJBK Fox 2. The weekday morning news was hosted by Lucy Noland and Alan Lee (now an author). They were playing a commercial at around 8:47 am until the Breaking News graphic and music interrupted that with the report of a plane hitting the North Tower.
Lucy and Alan were talking to a Detroiter on the phone who happen to be vacationing in NYC at that time. He was giving out the play-by-play while I watched Flight 175 hit the South Tower. This was followed by the man on the phone going, "Oh my God! Another plane hit the other tower!" or something similar to that. And like most people, I was very surprised and scared to see the South Tower collapse just before 10 am. I do remember a family member calling me after the collapse to see if I was up and watching this. And around 10:25 am is when the South Tower collapsed. Let's also not forget the attack on the Pentagon.
While watching Fox 2 News, I do recall one time they were showing a real-time view of the Pentagon with Alan Lee asking Lucy something along the lines of: "How much hatred in your heart has to be there to do something like this?" Again, I don't remember Mr. Lee's words exactly, so forgive me if I had those words wrong.
And here's a strange part of my 9/11 story. Two weeks prior, I had lost my job at a plastics plant, just wasn't good at that. After that, I applied for quite a few jobs in my area. This includes Mazel's who called me right away and I started work there the next day. At around 11 am, I received a call and I answered. Next, to hear an enthusiastic female voice asking for Robert, I said that's me. She said she was Katie from OfficeMax and was wondering if I was interested in a job.
That threw me way off and yes, the right thing to say at that time was: "I'm not sure if you're watching the news, but there's a serious event going down in New York and Washington." Instead, I was saying, "Um… uh…" Next for she to say, "Robert? Are you there?" I quickly said, "Um, I'll call you back." and hung up on her. About fifteen minutes later, despite watching the devastating news, I thought to myself, 'Did that just happen?' When I think about that now, she might've been in her office with no radio or TV. And someone else in the store area didn't tell her the news. It was 2001, smartphones didn't exist. However, we had Palm Pilots that could connect to the internet. That, or perhaps Katie from OfficeMax was one of those toxic positive people. God, I hate being around those folks.
Fox 2 went to Fox News and I got sick of listening to them after a while. I put the TV on mute and turned on WKRK 97.1 FM when it was Hot Talk (now a Sports Talk station, yuk). Howard Stern was on until around 12:30 pm, they went to local guys Kramer & Twitch next. I don't remember much of that day after 2 pm. I do recall going to Mazel's the next day. They shut off the music and got a TV on playing the local news. There were very few customers that day. I did a lot of warehouse work and they had Dick Purtan on the radio, one of these morning zoo radio guys I didn't like. He played the Post Pearl Harbor speech, a day that will live in infamy. Mr. Purtan and his radio sidekicks were comparing Pearl Harbor to 9/11.
I remember asking a female boss if we can change the station to 97.1 and she said no and got upset about suggesting we listen to Howard Stern. Later to lose this job three weeks after, and she was the one who told me I was canned. I can't remember if I was fired or laid off, probably the former, I did suck at that job.
21 years later and we are a very divided country. I was listening to the Reason podcast a few weeks back and the episode was about the possibility of a National Divorce. I think we are on our way to that. I'm also a big fan of the ATC and Neads audio of that very day. I find myself listening to that 9/11 audio compilation about four or five times a year. That's the thing about these events and how my WishesNetwork vids contained "phone calls." When events like these or dare I say, an Alien Attack scenario, I would wonder what those phone calls would be like. The President calling NORAD, Governor Whitmer calling The White House because the aliens are attacking Detroit. Or perhaps a dummy being called by the FBI for her failed attempt to lock zombies in a barn to make a political statement.
I watched this documentary below yesterday. It's quite interesting to me how the North East Air Defense Sector handled the situation. Sadly, they got caught with their pants down in this situation 21 years back. Ouch…
---